ksd6700 is a Techno Track Maker, a Media Artist....and all
はいはい。みなさん。落ち着いて。
Sounds
Remixes
DJ Mixes
Works
『Maltine Records - [MARU-161] コバルト爆弾αΩ - LISTEN, YOU PENCIL NECK GEEKS』ランディングページ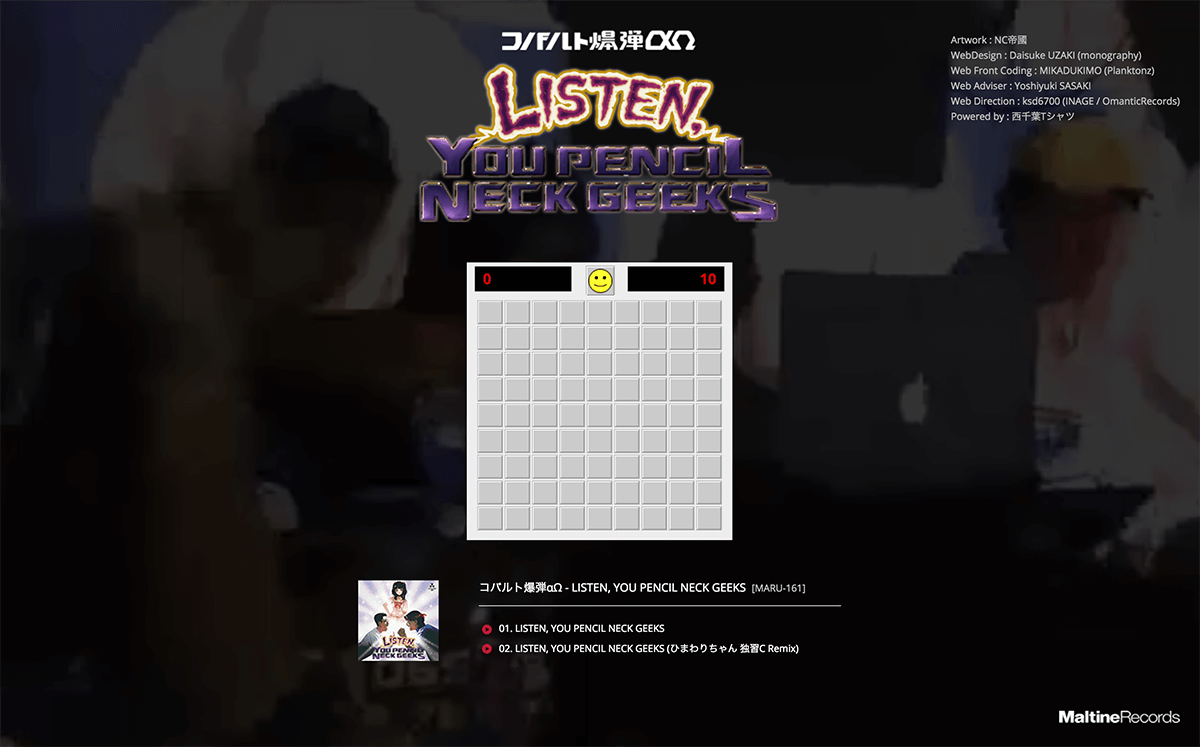 「餅つき」[2013] - メディア芸術祭クリエイター育成支援事業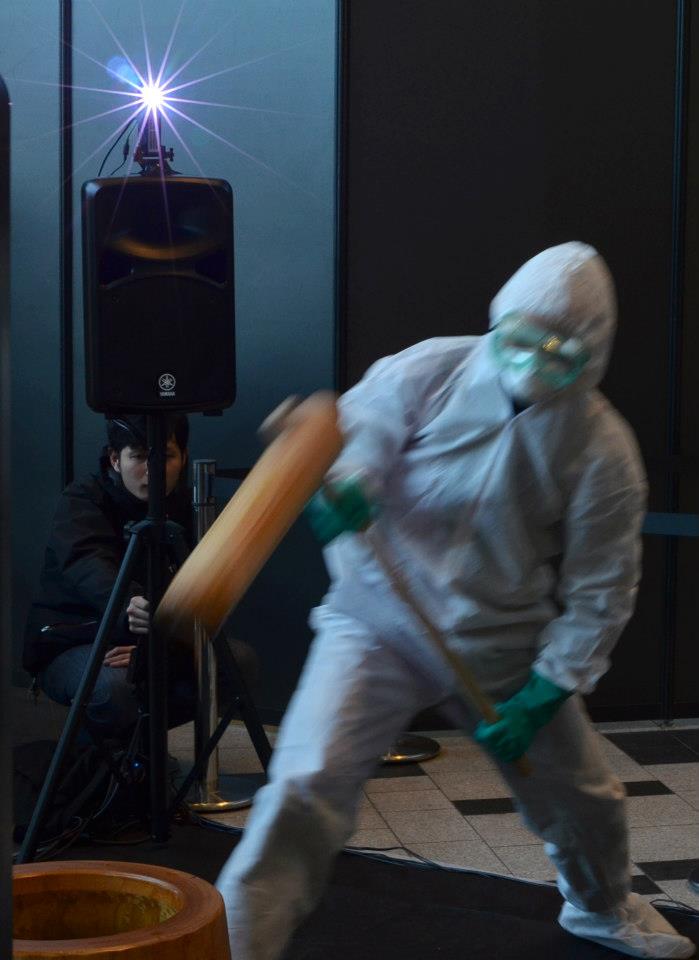 MEDIA(3D Light Writer - iPad Application)[2012] - 第 15回文化庁メディア芸術祭 審査員推薦

節電[2011] - グッドデザイン賞 一次選考不通過

ksd6700 says hello, world.
2003年にTatsuhiro Iida (oxoxo)らとテクノレーベル『INAGE Records』を結成した中心人物。同年にコンピレーションアルバム『COMPUSION』をリリースし、この頃から本格的にトラックメーカとしての活動もスタート。ファッションショーやビデヲ作品への楽曲提供、ライブを気紛れに行なう。2004年からは西千葉最大級の小型屋内パーティー『TEKNOVAQUE(テクノバカ)』を立ち上げテクノ馬鹿による、テクノ馬鹿のためのテクノ馬鹿な会合を開催し稲毛のテクノシーンを牽引。
また、音楽活動と並行して2次元の活動も行なっており、自身が捻り出したグラフィックがプリントされた『西千葉Tシャツ/稲毛Tシャツ』がスマッシュヒット。ブート版が出回る程の騒ぎに発展した。
2003年に発表した北朝鮮の少年律動体操とHardFloorをフィーチャーしたサックマイセルフィシュなビデヲがHardFloorのRamon Zenker本人の目に留まり、The Trill Acid ThemeのMusicClipに採用される。また、AlexFromTokyoのblogでもヤバいビデオと紹介され、5年早かったと自覚。自らを速い男とサックする。
2008年、千葉市美術館で行われた「チバトリ実験室」に出展『今後の活躍を我々が大いに期待している若手、あるいはまだ世に知られていない我々が自信を持っておすすめするアーティスト』として紹介される。
2012年、文化庁メディア芸術祭に審査員推薦作品として選出。
2013年、メディア芸術クリエイター育成支援事業にて「餅つき」を発表。
#VirtualAcid を標榜とする亜流の惡死怒ハウストラックメイカー。
歪んだヒーロイズムを元に創造主を想像しております。
「現代アートは自己責任」。否、「アートは免罪符(TM)」。
Central figure, which was formed and Tatsuhiro Iida (oxoxo) from the techno label "INAGE Records" in 2003. Released compilation album "COMPUSION" in the same year, working as a truck manufacturer also start in earnest from this time. Provide music to Bidewo work and fashion show, to be performed on a whim live. Is due to start-up techno fool "TEKNOVAQUE (Tekunobaka)" small indoor party of Nishi-Chiba largest, leading the techno scene of Inage held a techno idiot meeting for techno idiot from 2004.
In addition, We also performed the activities of two-dimensional parallel with musical activities, graphics that it has Hineridashi was printed "Nishi-Chiba T-shirt / T-shirt, Inage" smash hit. I evolved into turmoil to the extent that boot version hit.
Bidewo a Suck My Selphie Zhu featuring the HardFloor boy and rhythmic gymnastics of North Korea announced in 2003 that caught the eye of Ramon Zenker person of HardFloor, it is employed in MusicClip of The Trill Acid Theme. In addition, blog of AlexFromTokyo even introduced a dangerous video, and awareness was early five years. I sack and fast man himself.
Introduced as "artist that we not known the world yet or young, we have come to expect a great deal of activity in the future to recommend with confidence" exhibition was held at the Chiba City Museum of Art in 2008 to "Chibatori laboratory" Ru.
The elected as a judge Recommended Works in 2012 Japan Media Arts Festival.
The same year, make a "rice cake" in Media Arts artist development support project is determined.
We imagine the Creator based on Hiroizumu distorted.
"Contemporary art is self-responsibility." No, "indulgences Art (TM)".